Free Printable Word Search Worksheets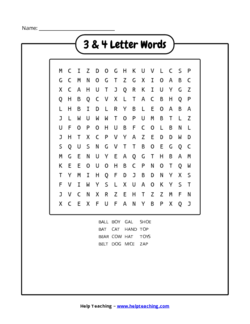 Our printable word search puzzles, which cover a range of topics and subject areas, are designed to challenge kids and help them build vocabulary and spelling skills.
Don't see a word search puzzle you need? Use our Word Search Generator to create your own word search for kids. Quickly and easily generate word searches to educate and engage your students! Customize your word search as desired and we'll generate a PDF you can download or print.
Related Lesson: Word Search Puzzle Tips
English Language Arts Word Search Puzzles
Science Word Searches
Life Science
Physical Science
Earth Science
Astronomy
General Science
Math Word Searches
Vocational Education Word Searches
Culinary Arts
Business Technology
Holiday and Seasonal Word Searches
Sports Word Searches
© Copyright Notice: All worksheets contain copyrighted work and are designed for use by individual teachers, tutors, and parents. Worksheets and/or questions may not be replicated or redistributed in any way outside HelpTeaching.com, regardless of intended usage, without explicit permission.